I know about this game really long long time ago but never got a chance to play it. Listening to them who've played this game before said that how good it is. But i dont really wanna play it until my recent addict to horror movie and horror game. And a friend of mine ''encourage'' me have a try on this game. So i try it.



Mayu and Mio...The butterfly which lead them....
So i get to borrow Fatal frame two : Crimson Butterfly from my friend-the cat. And once i play, i found out why this game is so ''interesting''. I'm going to tell only one part that scared me really bad. Fatal Frame two talk about twin sister Mio and Mayu, explore into a jungle and saw a some sort like japanese old gate. And there is belief said that once you step into the other side of the gate, you'll never be able to come back. They walk in deeper and came to a village which is not exist. And i'm controlling Mayu in the game. As i...i mean Mayu enter the village, there's no one in the village. Her sister Mio is scared and she said something like I'm very scared then grab Mayu's shoulder. Mayu grab Mio hand that laid on her shoulder and tell her dont be scared because she'll be with her side. So, the other scene showing that Mio already walk in front of Mayu and looking around. My goosebump is all over that time because Mayu still grabbing ''Mio'' hands and Mayu is shocked as she turn back, there's no one behind. So who's hand she grabbing just now....


And the village to me is so damn BIG!!! And the game character walk so slow even if you make them run....they run slowly (=_=)''. But i guess the creator purposely to control it's sppeed that slow because this game is create by really details. Like when you walk around the house in village, in the very corner of the house with very din light, you can barely saw the ''living soul'' standing there. Or when you walk by a room with door closing, you can listen really horror crying and when you walk far away, you unable to listen to the crying sound already. Do you know what i mean? Let's say in another game, they must put it in a story scene which you can't control anymore but watch what happen. But in Fatal Frame, there's whole lot of this details thing that you can see of hear when you're controlling the character. So you can tell that how many effort did the game creater, designer or director this game. And this game is by ZERO ( a game company's name). Salute to them. But i only play for a while for fatal frame two because:
First, it is so horrify...i dare not play when i'm alone
Secondly, the village is too big, i dont even know how i'm gonna find the stupid small keys one house by one house in this big village.
Third, the village too dark and some scene when i'm controlling Mayu, i can't see clearly because the scene's like too far from me (the scrren of the tv, should i say too deep inside?)


So...it've been some time. I get my Fatal Frame 3: the tormented but i didnt play it. I leave it for a while. After a few weeks, i ''try'' again. And...i'm addicted. This time is not as dark as Fatal Frame two, is it just my own opinion because the game character Rei carry a torch light haha. So actually in Fatal Frame 3, you can play either Rei, Miku or Kei's character. I chose Rei because she's the main character??? Actually i just click whatever it is so didn't care who i play. So this time, i have no need to play in a BIG village again. Just a house. Japanese traditional house...so it is a big house. At first i get kinda lost in the house but now i can manage to recognised it.




Someone is behind you.....
Oh i havent tell that how this game is play....Haha it is actually in Fatal Frame 3, i enter the house (Rei dont even now why) and explore it. Same thing happen like in Fatal Frame 2, in the house, Rei find a camera ( old one, really old...). The camera is used to captured all the ghost. Whenever you captured one photo og the ghost, it causes harm to the ghost. So when i carying the camera around the house. Same thing, sometimes there's kids run (or fly???) into the corner of the house and disappear. So stupid because everytime it scared me.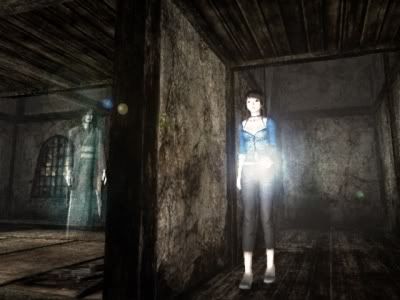 See,''suprise'' waiting for you....
The worst part is there is a stone or i forget what it is that can sense is there any ghost around. And if there is, there is a bar'll turn into red and my console will vibrate. So i scan my camera around and the console is vibrate gradually harder times to times, so i'll become so nervous turning my camera around.....and suddenly the ghost just appear in front my camera (''ahhh'' from me). So the ghost attack me....luckily i got herbs bringing along. Once when Rei (...me) open the doors and there's a woman carrying a child standing behind Rei....Oh~~~ with long long hair. Asking where's he go ? (How i know!!!) Then attack me again. Until i go into a alley of the house (actually quite big house), a woman (ghost) chasing after me....very horrify face,with blue flower tattoo over the body and raise her hand to grab Rei.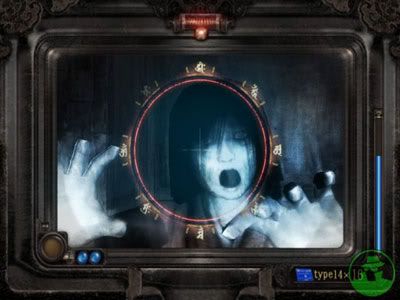 Rei wake up...a dream??? So actually whenever you let the character sleep, she'll back in the house again so called the manor of sleep. When she wake up, it back to normal life. When i first play, i'm so wish to wake up but now after some time playing, i'm so wishing the night come as fast as possible so i can let the character enter the house. Phew....and lately i playing and getting to know that what is happening. The same blue tattoo appear on Rei shoulder once she wake up. The very last time i play this game scared me AGAIN. I eneter the house again and wandering around the house. So actually the house is really quiet but when playing this game, you have to turn on your volume in case you miss some ''important details'' sound. So when i walk into the room, SUDDENLY there's something fall from the wardrobe. I'm so scrared that i'm running ( control my game character) away. Actually ther's only a doll (japanese puppet) falls down, small one. The doll fall like it really soft. Like that. Nice. But since the doll falls, a lot of ghost comes out, with invisible skill, only when ''they'' very near to my camera just appear. Almost die because of that....
Looking forward to play again....but i only play when my mum is around and i never play it during night.....I cant afford it.