Recently i've been looking some new music...i think i'm getting a little bored with my iPod player music.

Let's first talk about recent music. I think most of the song nowadays, or should i say hits of today has a few similarities. First, they have simple rhythm, and lyrics that kept repeat and repeat again...mostly with simple lyrics. I'll guess this is how they make us easier to remember the song???

I'm looking for song with nice melodies and some new bands. I know i can't always keep listening to Bon Jovi and keith urban...haha.

So i've found a new band call Parachute. Their song is awesome. I'm highly recommend the mess i made by them. Nice and simple melody...the others of their song are great too. But their hits is She is love, a nice song...but the chorus keep repeat and repeat so it is a hits. Emm no offense.




Another one is that i mention before Justin Bieber. As i say he's so young yet so talented...I think he will be huge. I love his common denominator. That song is really nice. His album not yet released on the market but you can found him on youtube since he's youtube artist at first. He's really talented. I think he can be better than now after years of experiences he earned in the future. His single is one time....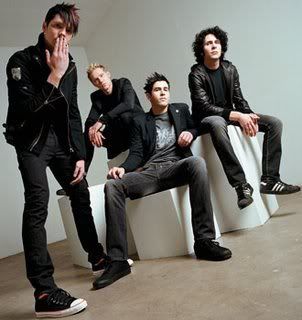 Another band that i wanna talk about is Faber drive. They are my favourite band. From canada. Canada got hell lots of great artist. I really like their music, i think they are better than boys like girls. Boys like girls, honestly, their live act isn't that good. So no matter how good your music are, when it comes to live...it's really disappointing. Go back to faber drive, i love almost all of their song in their seven second surgery album. But i've heard that their band member has switch a bit. Hopefully it wouldn't affect their second album. Keep it up!!! I love this band so much.
Next is cobra starship....but i like their first album more than the recent one. Although their good girl go bad are quite okay, i prefer The city is at war that album better. Plus they add a member for their good girl go bad tracks makes me feel like westlife lost Brian Mcffadden feels.
The next one is Tokio hotel....Their new album Humanoid is released. I don't know whether is that because they are a german band and the new album is emm not that attracted me. It's like lost what they had in the Scream album. but i think it's takes time for me to listen to the music because i just listen to their album once. Can i add in something? I'm freakin love tom kaulitz new dreadlock!!! Haha but Bill's hair...err...maybe it takes time too.....for me to get used to it. But their music video of first single automatic is kinda cool. With robotics things inside....the music video of course. They starting to hits the US market with great impact...i think.
Loves this twins....
Lastly, let me introduce some of the new song which i think is kinda cool. not really new for some of them.
The first one is One's republic's all the right moves. I think this song is quite nice. Another one is Kris Allen new single, live like we're dying. Actually it is from the script B side song. I don't know why Kris will use it as single but the song is meaningful. It's like a little rap style. Taylor Swift you belong to me is great too, i bet you've heard it on the radio a thousand times. Another one is Jesse Mccartney body language, i'm so in love with this song. Very nice. This song is collected in the Departured album but is in the recharged version so you might not hear it in radio or tv.
PS: Last but not least gotta mention loudly that Bon Jovi new album the circle is releasing soon somewhere in november something. Personally i think the cover is kinda cool and gotta promote a bit. The fresh and hot look of bon jovi....err i mean bon jovi album artwork. I can oly show the link, go on and have a look:
http://www.bonjovi.com/photo/all/the_circle_album_art?scope=official#photo
I have to say jon did look very good in the new album of course as well as richie. Emm off topic, oh ya you can listen to their single We weren't born to follow on their official websites. God bless they will have a concert in Malaysia soon although even they come i may not afford to go. And i'm waiting for their special edition of the circle... Yea!!!
So here it is...the end of my music journal.